11/27/2021
Mercury Enrichment Valve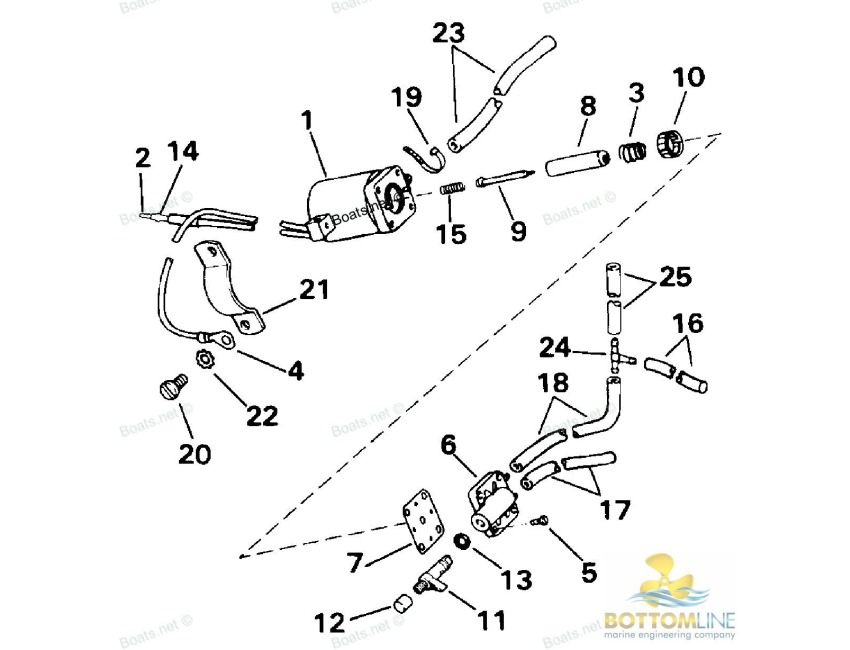 Mercury Enricher Valve 437339 Fits 70hp - 125hp 3 And 4 Cyl 2 Stroke Outboards M $36.95 Carburetor Enrichment Solenoid Mercruiser 3.0l 4.3l 5.0l 5.7l 2bbl Mercarb. The name Mercury is molded into a lot of the covers on this engine, but this is the power head shipped over from Nippon which was the subject of the big legal action between Mercury and Yamaha last year (where Mercury has to go to court to force Yamaha to continue to sell them at the contract price through 2006).


ContinuousWave
Whaler
Moderated Discussion Areas
ContinuousWave: The Whaler GAM or General Area
Engine Start Procedures and Narrative


search FAQ profile register author help
Author
Topic: Engine Start Procedures and Narrative
GAwhale
posted 02-07-2006 10:33 AM ET (US) I picked up my boat from Bolling Bridge Marine on Monday. They changed the impeller and lower unit oil for $129. They had a new Dauntless 22 (with a 150 Merc) out front for $63k. That is three times what I paid for my Montauk new in 2001. It sure is nice to dream. Bolling Bridge Marine on Lake Lanier has had the Whaler brand for three years. The service guy said they sell a lot of the 13, 15, 17 footers; but the big ones don't move.

The rain took a break and I decided to go for it and take a spin. My 2001 Mercury 90 two-stroke is a miserable starting engine. She smokes, kicks like a mule and coughs. Once she is hot, she screams and has been a very good engine.

Sure enough the rain started up again, but I just did not care. I was dressed right (except for my bare feet) and had a smile on my face half a mile wide.

When I push the key in during start up, what am I really doing?
Is this an electrically controlled choke? I usually bump it several time during start up. Is it better to hold it in for seconds at a time?

Chuck Tribolet
posted 02-07-2006 11:11 AM ET (US) Dunno about the Merc, but on an OMC, pushing the key gives it
a squirt of gas. Holding the key doesn't make the squirt
bigger. Multiple pushes = more gas.

It's not a choke, it's a primer.

It doesn't work if the ignition is off.


Chuck

derf
posted 02-07-2006 11:13 AM ET (US) That 'push to choke' is more like a 'push to prime'. You are doing the same thing that you do to your lawnmower with the little primer button. The 'choke' solenoid injects a little stream of fuel into the carb/mainfold area to richen the mixture for starting.

One push makes the solenoid operate once so holding it doesn't do anything.

In my outboard experience, it is usually best to pump the fuel line primer bulb until it gets stiff, push the 'choke' once or twice, turn the motor over a few times, and then re-pump the primer bulb.

Your outboard really shouldn't run too roughly at idle, though many do. I would consider your outboard to be newer and a tune up might be in order. My 1995 Mariner 115 starts and idles nicely.

For, $63,000, not too many 22 foot boats are going to move.

Plotman
posted 02-07-2006 11:14 AM ET (US) If the switch is wired correctly, you are engaging the choke electronically. You don't want to bump the choke while cranking (at least while the engine is cold), you want to keep it on while cranking. You can often check to see if it is working by taking the cover off the motor, having a helper push in on the key and listen for the click of the choke engaging. On my 150, there was also a button under the cowl that would also engage the choke - this will tell you what to listen for. You can also pull off the air intakes so you can see the choke plates and watch to see it is activating properly.

On my yamaha control, the chokes are controlled with a momentary toggle switch, but the procedure should be the same.

I start with a fair amount of throttle, make sure the primer bulb is pumped up hard, and generally keep the choke engaged while cranking until the engine fires. I won't crank more than about 5 seconds without pausing, and it almost never takes more than 2 tries.


A conventional 2 stroke is hard to start, very hard to start, if you don't use the choke properly.

David

Matthew
posted 02-07-2006 11:37 AM ET (US) I have a 2002 version of the same engine.

When you push that button in you are priming the engine.

I've heard the reputation that this engine is hard starter. I've never had never had any trouble (knock on teak, mahogany or Whalerboard) in a variety of weather conditions, minus the time my kill switch wasn't engaged.
My routine is as follows:
1. Make sure gas tank is vented.
2. Prime the bulb until firm.
If the engine is cold:
3. Advance the fast idle lever a bit over 1/2 way.
4. Push in on the key to prime while turning the key to start. Hold it in, don't be shy.
5. When the engine catches, usually after only a couple of seconds, slow the fast idle throttle. My manual says around 2000 rpms, but I've found 2500 is closer to my magic number.
6. If the engine wants to slow, stop, or sputter push the key in to prime it again. Just a quick push. If the outside temperature is in the 30's you may have to re-prime a couple of times.
7. After 3 or 4 minutes, bring the throttle into the neutral position.


jimh
posted 02-07-2006 12:08 PM ET (US) This is covered in the motor's owner's manual.
GAwhale
posted 02-07-2006 01:19 PM ET (US) My outboard has started like this from day one, so I feel she doesn't necessarily needs a tune up. It was also a cold and damp day. Despite my trash talking, she has been a great engine.

Good advice jimh, I looked in the owner's manual.

Step #9 'If engine is cold, push in on key to prime the engine while cranking. If engine fails to start in ten seconds, wait 30 seconds and try again. If engine begins to stall, re-prime (push key in) until engine is running smoothly.'

CHRISWEIGHT
posted 02-07-2006 01:58 PM ET (US) GAwhale

we have a 1996 ELPTO 90 two stroke she starts first time and as we don't have the throttle advance due to using a foot throttle has to Idle straight away. I think get it tuned and make sure your using surface discharge plugs and good oil.

regards chris

erik selis
posted 02-07-2006 02:53 PM ET (US) I used to have trouble starting my 90-hp Mercury ELPTO 2-stroke engine but not any more. It now starts first time every time, no matter what the conditions are. One heck of a great engine.

Matthew describes exactly how to start this engine without any problems.

Last week I went fishing and a couple of friends joined me in their aluminium fishing boats. It was -8°C (17.5°F) outside and parts of the lake were frozen over. My Mercury engine was the only engine that started without any trouble what so ever. The two Honda 50's on the aluminium boats had quite a lot of problems getting started.

Erik

dnh
posted 02-07-2006 03:18 PM ET (US) I know this is a Merc thread, but with a carb'ed Yamaha, it starts and keeps running much much easier (one to two attempts) virtually every time if you click it in and out several times once it fires up the first time.

You can tell when it needs a bump when it ends up sounding like its gonna cut off. This also works on my friends' suzuki and I imagine any similar motor. You just have to get a feel for it.

This also avoid flooding it which so many people do.

elaelap
posted 02-07-2006 03:32 PM ET (US) I hate to keep beating the same old raggedy drum, but I've had two Yamaha four stroke motors over the past three and one-half years--one carbureted and one EFI--put a total of 1000+ combined hours on them, and neither has failed to start at the first turn of the key (except the two or three times I had left the kill switch lanyard out). Doesn't matter if it's real cold, raining, or blazing hot...they both start up just like a good car or truck. Amazing pieces of machinery.

Tony

dnh
posted 02-07-2006 03:53 PM ET (US) Let me clarify, I am talking about a 2 stroke Yamaha without fuel injection.

I don't know anything about 4 strokes except I can't afford one.

GAwhale
posted 02-07-2006 05:16 PM ET (US) I'm sorry, but what does 'ELPTO' stand for ???
LHG
posted 02-07-2006 05:22 PM ET (US) *E*lectric start, *L*ong shaft (20'), *P*ower *T*rim, *O*il injected.
linust
posted 02-07-2006 05:50 PM ET (US) Mercury's use of the term 'prime' is exactly that...it is not a choke, but an 'enrichener' to prime the engine. Pushing the key opens a valve allowing additional fuel to drop into the carb throats. In theory, do this too many times, and you risk flooding the engine.

When I had a carb'd Mercury, I (finally) learned to turn the ignition to 'On' push the key for a 5-count and release, then start. 9 times out of 10, it would fire right up with the one turn of the key. (the 10th time would need two turns, usually from my rushing the 5-count). I rarely had to advance the throttle for a fast idle.

kingfish
posted 02-07-2006 05:51 PM ET (US) Clarification to those comments suggesting that the primer on an OMC motor is a momentary squirt: that may be the case on 'some' OMC motors, but I doubt it. Certainly not on *all*. Pushing and holding the key in on a 1992 Evinrude 225 2s causes a solenoid to open a valve that redirects part of the normal fuel flow into the barrel of the carburator, that otherwise, with the valve in the normally closed position, would have been part of the operating fuel circuit. The flow of fuel, whether it is wholly in the normal operating circuit, or mostly in the normal operating circuit and partially in the prime or enrichment circuit, is powered by the fuel pump. The solenoid opens a valve, it doesn't pump. Mileage may vary as they say, but the single squirt theory does not hold up across the entirety of OMC motors, except when coming from a momentary pushing of the key.

John

Hobie1981
posted 02-07-2006 06:00 PM ET (US) Hi All:

My 1988 Yamaha 70 HP 2S is a bit fiesty when she feels neglected more than a week. I found the best way to be forgiven is to use the manual choke on the engine when I start her up. Generally the electric choke by the keyswitch works fine works fine when she has been sitting only 1 few days or so. Additionally, she requires no such prompting when she has been run within a 24 hour period.

I also tell her that we are in the driveway, and not dockside. She falls for that everytime. Hell to pay if I neglect to inform her of her whereabouts, or to use the manual choke for longer periods of neglect. Don't forget to prime the bulb. Runs like a terror after all is forgiven.

Hobie

fatbanker
posted 02-08-2006 08:23 AM ET (US) So if pushing the key is just another primer, like on my mower, does a Mercury have any manual choke mechanism at all?
jimh
posted 02-08-2006 08:40 AM ET (US) The people who best know how to start an outboard motors are the engineers who designed it. They usually write down the best procedure, and pass it along to the people who buy their outboard motors in the form of instructions in the owner's manual. Usually if you follow the starting procedure in the owner's manual, the engine will start without much fuss and bother.

As mentioned above, there are various methods of providing a richer fuel:air mixture during starting. If the precise method is fully understood by the operator, perhaps it may lead to better starting. But even an operator who has no grasp of what happens when he pushes a button will be able to start the engine if he follows the directions on when to push the button.

Some engines also change the ignition timing during start and warm-up to enhance the performance.

The newest outboard motors start without much user intervention, much like automobile engines, but older outboards generally require some preparation and assistance from the operator in order to start properly. It is all in the owner's manual.

HuronBob
posted 02-08-2006 09:26 AM ET (US) Interesting thread, thanks for starting it.

I have found that engine manuals are not all that great. I find that for both my 4 stoke Yamaha and my 4 stroke Merc. the manuals give way too little information and are often pretty generic.

This is a great site to get these kind of questions answered, almost always quicker than the 45 minutes on hold when calling the dealer!

thanks to all for the input on this one, very enlightening!
Contact Us RETURN to ContinuousWave Top Page
Powered by: Ultimate Bulletin Board, Freeware Version 2000
Purchase our Licensed Version- which adds many more features!
© Infopop Corporation (formerly Madrona Park, Inc.), 1998 - 2000.

Find the right parts for your Mercury® or MerCruiser® engine here. Search by serial number to see detailed engine diagrams and part numbers, then contact your local authorized Mercury Marine dealer to place your order. You can also browse by model, but we strongly recommend using your serial number to ensure you find the correct parts.
Mercury Outboard Enrichment Valve
Mercury has an extensive network of factory-trained dealers to help answer any parts-related questions you may have. Click here to find your local authorized Mercury Marine dealer.
For Mercury outboards, the serial number label is located on the transom bracket.
1986 9.9 Mercury Enrichment Valve
You can locate the MerCruiser serial number label on either the side of the engine or on top of the flame arrester cover.